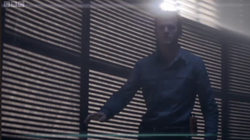 Williams is a PAS officer. When Cass Cromwell confronted Mitchell Hoban after he attacked President Richard Tate, Williams arrived in the corridors. Cass warned Williams to back down but when Mitchell turned his gun to Cass, Williams saw his oppurtunity to stop him, but he was shot by Mitchell before he ran. It's likely Williams survived as Mitchell seemed to have shot him near his shoulder. (Episode 1)
Ad blocker interference detected!
Wikia is a free-to-use site that makes money from advertising. We have a modified experience for viewers using ad blockers

Wikia is not accessible if you've made further modifications. Remove the custom ad blocker rule(s) and the page will load as expected.