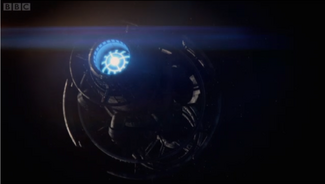 Julius Berger communicated with this Transport Ship during Episode 5. He communicated with it briefly, stating that - he would remove all opposition, including Richard Tate and his supporters, before their arrival. He later contacted CT-10 again, saying that he has the leader of the Expeditionaries, Jack Holt, on his side. Also saying that he is fully confident that Stella, leader of PAS, will join him as well. (Episode 6)
The captain of CT-10 is "an absolute, no-nonsense, kick-ass" woman who will play a heroic role in the conflict started by Julius Berger.[1]
References
Edit
↑ Richards, Ben (6 April 2011) Exclusive: what would have happened next in Outcasts Interviewed by Simon Brew of Den of Geek
Ad blocker interference detected!
Wikia is a free-to-use site that makes money from advertising. We have a modified experience for viewers using ad blockers

Wikia is not accessible if you've made further modifications. Remove the custom ad blocker rule(s) and the page will load as expected.